DISCO
GRAPHY
Ian's musical career dates back to around 1976, when he formed Rose Tattoo with Tony Lake, Pete Wells, Leigh Johnston and Michael Vandersluys. With a varied recording history spanning two and half decades, the discography page on this site is taking quite a while to materialise. For the time being, here's a look at Ian's recent albums, along with a few tracks to listen to.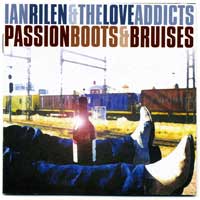 PASSION
BOOTS

AND

BRUISES


2005 | Phantom Records
TRACKLIST
Booze To Blame (Rilen)
I Dare Ya (Rilen)
Never Fall In Love (Rilen)
Mobile Phone (Rilen)
Cold Wind Blowin' (Rilen)
Inside Out (Rilen)
Stringin Me Along(Rilen)
Happy (Rilen)
Goldmine (Rilen)
Grey Steel (Rilen)
Wishing Well (Rilen)
Passion Boots and Bruises (Rilen)
PERSONNEL
The Love Addicts are: Ian Rilen - Guitar, vocals; Kim Volkman - Guitar; Tony Biggs - Drums and Sean Docherty - Bass. Guest players: Chris Brodie - Banjo; Shain Walsh - Double Bass; Chris - Saxophone. Backing vocals: Brigitte Harvey and Vivian Gay.
---
LOVE
IS

MURDER
2000 | Phantom Records

The debut solo album for Ian Rilen (ex-Rose Tattoo, X, Sardine V). Try and imagine Tom Waits singing songs written by Charles Bukowski. Add stripped back, downright slinky musical augmentation that smoulders and shivers, and you start to get the idea. Comes with a bonus EP 'Bad Boy For Love', not surprisingly featuring Ian's composition of the same name. 'Love Is Murder' is the real deal.
TRACKLIST
Missin' You (Rilen/Fitzpatrick)
Nick Of Time (Rilen)
401 (Rilen/Jones)
Booze To Blame (Rilen/Jones)
Letter (Rilen)
Tellin' Lies (Rilen)
Bad For Good (Rilen)
No Fixin' It (Rilen)
Rock 'n' Roll Man (Rilen)
It's OK (Rilen)
Burn (Rilen)
Deep Sea Floors (Rilen/Fitzpatrick)
Bonus Disc
Bad Boy For Love (Rilen)
80mph Blues (Rilen/Schofield)
Inside Out (Rilen/Fitzpatrick)
The Worst (Keith Richards)
PERSONNEL
Ian Rilen, James Cruickshank, Stuart Brown, Phil Hall, Andy Lewis, Kim Volkman, Cathy Green, Jim Elliot, Jared Underwood, Andy Thompson, Dianne Spence and Tanya. Bonus Disc: Ian Rilen, John Gauci, Stuart Brown, Kim Volkman and Chris Townsend.
---
RARITIES
AND

LIVE

AUDIO

2 tracks recorded during Ian's Sunday night 'Guess Who's Coming To Dinner.......?' residency at the Excelsior Hotel, on October 5th 2003. Recorded by Greg Clark. The musicians on these 2 tracks are: Ian Rilen, Mick Cocks, Theo Katz, Simon Cox and Andy Thompson.
Got To Get Out Of This Town
Steal It
---